I've received a lot of questions about the pentatonic scale lately so I wanted to reserve some time to break it down.
Like a pentagon, which has 5 sides, pentatonic scales have 5 notes.
"Pentatonic" doesn't mean one type of scale though, as some might think. There is a most common one that I'll talk about below, but the truth is, there are tons of pentatonic scales and they vary widely depending on where you are in the world.
So for now, pentatonic scales have 5 notes. That's my first point.
(You may find it useful to know that a heptatonic scale, like a heptagon, which has 7 sides, subsequently has 7 notes. The most common heptatonic scale is a major scale. The blues scale is an example of a hexatonic scale, which has 6 notes. Heck, there's even an octatonic scale… a diminished scale).
So, just take your favorite shapes, count their sides, find out the prefix that correlates to that number (i.e. – "hexa" vs "penta" vs "hepta") and add "tonic" to the end, and you'll sound like a music theory pro! By attaching one of these prefixes, it's just a fast way to characterize scales by the number of notes they have.
I'll do a separate post on all of them at a later time.
Ok, back on topic…
Let's talk about the major pentatonic scale.
I'm going to show you two ways to create this scale. One will be drop dead easy and the other will be a little more involved so that you can get a little more understanding of how music works.
Drop dead easy way
To play a major pentatonic scale, take any major scale and remove the fourth and seventh tones.
So let's apply this to C major:
C D E F G A B C
1 2 3 4 5 6 7
The 4th is "F"
The 7th is "B"
Play this scale without those notes:
C D E G A

5 notes! 5 notes = pentatonic.
And this specifically is a C major pentatonic scale.
It sounds really good going all the way up your piano. Try this:
C D E G A C D E G A C D E G A C
Maybe you heard this in the hit song "My Girl."
C D E G A C! (Play it in rhythm and you'll hear the melody line I'm talking about). Click here for an example.
The more involved approach
Remember the circle of fifths from other lessons?
Well, if you start at any given point on the circle and go clockwise until you've included 5 total notes, that'll give you a pentatonic scale (you'll just need to add one more step to make it usable).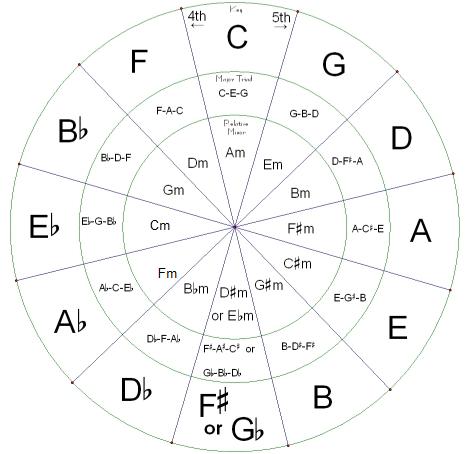 For example, if you start at C and move clockwise 4 more tones… C to G to D to A to E… bammmmmmm! That'll give you the notes of the C major pentatonic scale.
Obviously, you can't play the pentatonic scale like this: C G D A E. You have to rearrange the notes to be within one octave. That is, from one "C" to the very next "C," eight notes up.
So how do you take the notes C, G, D, A, and E and rearrange to fit into an octave?
Simple!
Start at C…
Just move to the right asking yourself if you have the next note in line…
C… ok do I have a D? Yup!
So C and D are in place so far.
Do I have an E? Yup!
So C, D, and E are in place so far.
Do I have an F? No. F is not a part of the C pentatonic scale.
Do I have a G? Yes! Put G in place.
C D E G
Well, since pentatonic means 5 notes and I already have 4, then it's obvious that the "A" goes on the end.
C D E G A
There's my scale!
—-
So Jermaine, why would I go through all that trouble when I can use your simple way, which takes the C major scale and removes the 4th and 7th tones?
Because, I'm a big proponent for using the circle of fifths as much as you can. The circle of fifths pretty much describes in ONE picture how music works! When you start seeing the relationships the keys have to one another and how those relationships lead to other things you thought were random before, then many things start making sense.
Just like you took 5 neighboring notes going clockwise on the circle, if you took 5 neighboring notes going counter-clockwise, that would give you one of the most commonly played chord progressions in music. Heck, taking only 3 neighboring notes and going counter-clockwise gives you the famous "2-5-1" chord progression in any key! Don't believe me… what's C to F to Bb? Those are the keynotes of a "2-5-1" in the key of Bb. Add a minor to the "C" keynote, a dominant chord to the "F" keynote, and a major chord to the "Bb" keynote and you've got yourself a basic chord progression!
(Also another lesson in and of itself).
So when I give you harder ways to do the same thing, usually those are the methods that pay off the most because they lead to understanding something BIGGER than the situation at hand.
Until next time!
The following two tabs change content below.
Hi, I'm Jermaine Griggs, founder of this site. We teach people how to express themselves through the language of music. Just as you talk and listen freely, music can be enjoyed and played in the same way... if you know the rules of the "language!" I started this site at 17 years old in August 2000 and more than a decade later, we've helped literally millions of musicians along the way. Enjoy!