About Jermaine Griggs, Founder of Hear and Play Music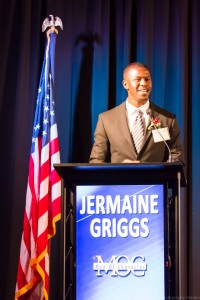 Jermaine Griggs is a musician, entrepreneur, consultant, public speaker, husband, and father.
Having grown up in the inner city of Long Beach with just his mom and sister, he always envisioned making an impact in the world. At the tender age of 16, he decided to focus on his passion and started Hear and Play Music, an instructional music company specializing in teaching piano by ear. With only $70, he bought the name HearandPlay.com and launched the company that would not only change his life but hundreds of thousands of musicians around the world through his books, dvds, software and training courses.
16 years later, over 2 million aspiring musicians download his online lessons every year and over 400,000 loyal students receive his regular newsletters. Having seen the site grow from a few students a month into an international musician "hub," helping millions of people (both free and paid) is nothing short of amazing — and constantly reminds Jermaine of his humble beginnings. He knows all too well what it feels like to start with limited resources and also shares his story with entrepreneurs all over the world regularly.
His success has allowed him to meet and photograph with President Barack Obama, be invited to the White House on multiple occasions, receive Boy Scout's "Man of Character" award, and give back to his community and causes. He's on the board of Operation Jumpstart of Long Beach, a youth college mentoring organization, UCI's Alumni Association, and UCI's Applied Innovation Center.
He is married to his high school sweetheart of 20 years and they have three beautiful children: Jadyn (12), Layla (9), and Brendan (8). He is a graduate of University of California, Irvine and currently resides in Orange County, California.