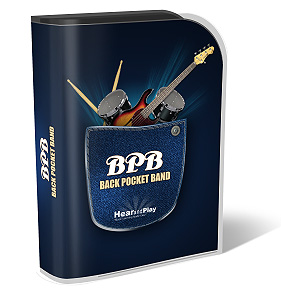 What if you could turn your computer into a complete practicing machine?
What if you could pull a real-sounding band out your "back pocket?" (…so to speak).
Sounds crazy but with the power of technology, I'm going to show you how to finally make practicing fun, productive, and effective.
Click here to watch a new video presentation
(I only wish I had this little magic tool when I was young!)
I call it "Back Pocket Band" because it literally puts a band at your fingertips.
I've put together a full video demonstration at: https://www.hearandplaymedia.com/backpocketband
Here's what it does:
* It gives you access to over 350 real-sounding backing tracks.
* Practice and live performance files are played in all 12 keys.
* You can choose between multiple speeds: slow, medium, and fast.
* 3 different sections, 9 styles of music, & drums-only option.
* Instant streaming playback and automatic downloading to your system for burning to cd, transfer to ipod, and editing.
* And much more…
Visit: https://www.hearandplaymedia.com/backpocketband
For a limited time, I'm making you an unbeatable deal on everything.
Once you get your hands on this, you'll see why so many are excited about it.
Visit: https://www.hearandplaymedia.com/backpocketband
The following two tabs change content below.
Hi, I'm Jermaine Griggs, founder of this site. We teach people how to express themselves through the language of music. Just as you talk and listen freely, music can be enjoyed and played in the same way... if you know the rules of the "language!" I started this site at 17 years old in August 2000 and more than a decade later, we've helped literally millions of musicians along the way. Enjoy!