Check out this video…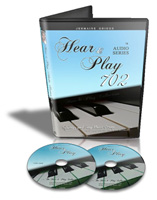 Hear and Play 702: Piano By Ear For Starters
The Hear and Play 702 Audio Series is a 2-hour, 2-disc set that specializes in taking you from the VERY beginning all the way to playing basic songs (popular ones at that). You'll study everything from the notes on the piano, scales, and basic chords to melody, harmonization, and even progressions!
If you're a newbie and want to be up and playing in less than a few days, you can't afford to miss this opportunity at this incredible price. Click here to learn more | Buy now
The following two tabs change content below.
Hi, I'm Jermaine Griggs, founder of this site. We teach people how to express themselves through the language of music. Just as you talk and listen freely, music can be enjoyed and played in the same way... if you know the rules of the "language!" I started this site at 17 years old in August 2000 and more than a decade later, we've helped literally millions of musicians along the way. Enjoy!