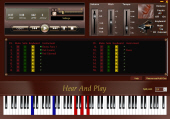 After so many replies and interest in the new Song Robot software I recently announced, I've decided to do another quick demonstration that shows how to use the software to learn practically any genre out there.
In this video, I show you in just a few minutes how to find a famous jazz song and open it in the robot software. Then at the end, I let the entire song play through (giving you the opportunity to pick up some of the licks in there — but you'll want to get Song Robot so you can have full control.)
For more information on the Song Robot, click here.
The following two tabs change content below.
Hi, I'm Jermaine Griggs, founder of this site. We teach people how to express themselves through the language of music. Just as you talk and listen freely, music can be enjoyed and played in the same way... if you know the rules of the "language!" I started this site at 17 years old in August 2000 and more than a decade later, we've helped literally millions of musicians along the way. Enjoy!