Major Announcement: We're giving away our best-selling 2-hour Hear & Play Starter course as an instant download to the next 79 students to pre-order Salsa Piano 101…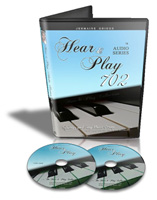 That's right!
Two courses for the price of one! Invest $39.95 in the 2-hour Salsa Piano 101 course and receive another 2-hour course for free!
Hear and Play 702: "Piano By Ear For Starters" 2-hour Audio course
(Instant Download, not shipped)
Just call 1-877-856-4187 to preorder today and you'll get this free course on October 1!
Here's what you'll learn in the "Piano By Ear For Starters" course:

Understand the basics and fundamentals like notes, octaves, intervals, distance, and everything you need to know to get up to speed on the piano. (The playing field will finally be equal for you).

How to use something as familiar as the English alphabet to learn and memorize all your scales in a flash.

How to relate music to baseball and recognize when chords are returning to "home base" and when they are moving towards other bases. (I know this sounds funny but when you learn to link new concepts to things that are already familiar to you, breakthroughs are guaranteed to happen).

Why half steps and whole steps are important and how to use them to your advantage to instantly play dozens of chords… ON DEMAND!

The secrets to playing several popular songs with only 4 types of chords. It doesn't get simpler than this.

Understand the relationships between major keys and how this can help you to play popular songs in ALL 12 keys on the piano… NOT just one key. The secrets you learn could be the difference between you being musically handicapped in one key OR being musically liberated and able to play whatever you want all over the piano!

And much more…
This is all you have to do to get this course for free…
Be one of the next 79 students to call 1-877-856-4187 and preorder Salsa Piano 101 and it's yours!
(The best part is you won't be billed until Wednesday, October 1 so there's nothing to lose and everything to gain).
If you've already pre-order, don't worry! You're already at the top of the list for any "unannounced" bonuses so you're already taken care of. Just sit tight and on October 1, 2008, you'll be e-mailed the link to download the full 2-hour program while you wait for your Salsa Piano 101 to come in the mail. It's that easy :).
All the best —
Hear and Play Salsa Piano 101: Salsa Basics
If you've always wanted to learn how to play Salsa & Latin styles, look no further!
Salsa Piano 101 uncovers the basic rhythms and fundamentals you need to get started the right way. You'll learn the secrets to playing the classic montuno pattern along with tons of Latin-based chords and progressions! From bass lines, chromatic walk-downs, and passing chords to clave rhythms, fill-ins, and harmonic movements, you'll get it all in this comprehensive 2-hour course. Click here to learn more | Buy now
The following two tabs change content below.
Hi, I'm Jermaine Griggs, founder of this site. We teach people how to express themselves through the language of music. Just as you talk and listen freely, music can be enjoyed and played in the same way... if you know the rules of the "language!" I started this site at 17 years old in August 2000 and more than a decade later, we've helped literally millions of musicians along the way. Enjoy!