"Finally... A Way to Quickly And Easily Play All The Latest Contemporary Urban Chords, Progressions, Licks, and Tricks By Ear!
Use These Techniques To Take Your Piano & Keyboard Playing To New Heights... GUARANTEED!"

4-minute Video Overview
(Click to Play)

Discover:

How to make your chord voicings sound full. Most musicians forget about this missing element.

How to effortlessly make your left and right hands work together.

The Do's and Don'ts of playing contemporary gospel music in today's church.

Why musicians fail to get to the next level in their playing.

And much more...
---
From: Jermaine Griggs
Wednesday, 6:15 AM
Personal Message
Dear Gospel Musician,
am thrilled that you're reading this page!
In fact, it let's me know many things about you. First and foremost, I know that you're serious about improving your piano skills. Secondly, it let's me know that you acknowledge where gospel music is headed (...or should I say "where it has arrived").
It's true.
All you have to do is pop in the latest record of your favorite gospel artist and you'll hear the type of contemporary, modern, and "urban" flavor I'm talking about. It's everywhere.
Now, that's not to say that traditional music is outdated. Never that. You'll always have churches singing the hand-clapping, foot-stomping praise songs or the worship classics that we've all grown accustomed to. They never get old. In fact, we have courses dedicated to teaching each of these styles, step-by-step.
What is happening, however, is that churches are incorporating more and more contemporary-sounding songs into their worship services. What used to be reserved for "the choir" is now commonplace in opening up a church service. The church band is a lot savvier and knows how to play all styles.
If the church mother sings and old-time gospel hymn, the millennium gospel musician can follow along. If the youth choir decides to sing the latest songs on the radio, the same musician can switch styles. This is the ultimate way to be.
Who Else Wants To Be A "Versatile Musician?"
Just like you should be able to play in all twelve keys, you should also be able to play all styles of gospel music.
Of course, it doesn't come overnight. This is what you use your daily practice sessions for.
See, practicing is not about rehearsing what you already know. Rather, your practice sessions should focus on learning new chords, progressions, tricks, and styles daily.
"Practice makes perfect" right?
Wrong! You've been fooled.
"Practice doesn't make perfect."
"Perfect Practice Makes Perfect!"
You can:
1) Practice things right.
2) Practice the right things.
While both statements are extremely important, I personally prefer the second option over the first. It's very easy to get sidetracked and focus on the wrong things in your practicing.
Make an effort to first practice the right things... then make sure you practice those things right rather than practicing the wrong things right. Sounds tricky. Just read it a few times. It's actually applicable to many things outside of music as well.
Some of you may relate to me on this next point...
Have you ever felt stuck in the same ole' place? Playing the same chords? The same patterns? The same progressions? The same runs you learned in the 90s?
I've been there too. Trust me. I think every musician has...
...Until they decide to make a change.
All the information one needs to excel in their playing is out there in one form or another. Either stuck in the heads of a select group of musicians (who don't want to share it) -or- in courses like the GospelKeysTM Series.
Not to get deep or anything but energy is neither created nor destroyed --- merely transferred or converted.
Brought to musical terms:
Basically, all the chords... all the progressions... all the movements... all the fancy tricks... all the contemporary methods of playing... all the voicings ARE ALREADY OUT THERE!
The top musicians have mastered them. They know how to play all styles. They know what to do (and what not to do) to make their playing sound contemporary.
It's the musicians who don't have the privilege of hanging around the professional musicians who play for top artists, that don't get this "TRANSFERENCE" of energy (i.e. - "the right chords, movements, runs, fill-ins, etc").
Ok, simply put.
It's Called "Shedding"
It's where musicians get together to share chords, runs, licks, and tricks.
The problem is that some musicians are invited... some aren't.
It's a catch-22 because if you're already good, you shed with others and become even better. If you're not so good, you sink because you don't know the right things to practice to take your piano playing to the next level.
So you get stuck under this glass ceiling, practicing and playing the same stuff over and over --- REHEARSING what you already know rather than learning new stuff... fresh techniques... getting your piece of the knowledge that's already out there --- the "energy!"
The "Practicing Problem" --- BE GONE!
I'm going to introduce you to something that will keep you locked in a room practicing the right things for quite some time.
"Hungry musicians" are going to eat this up and master it within weeks, if not days. Some musicians will take their time and add chunks and pieces of these contemporary, "west coast" sounding chords to their playing slowly, as needed.
Wherever you fit above, continue to read every word on this page as your gospel playing will never be the same.
"Introducing My Good Friend, Mr. Jonathan Powell..."
Jonathan Powell has played for and with everyone! Out here on the west coast, he's known for his uncanny ability to form two-hand chord voicings with his signature "slide techniques" (... don't worry, he shows you all of this, step-by-step)!
He's performed with a countless number of gospel artists, groups, choirs, producers, and more. He was highly sought after and practically recruited to come to Hear and Play Music in 2005 and has been a blessing to our company ever since.

He's the lead moderator of the HearandPlayTM Zone, our musician community and also the head music consultant in our training department. When he's not helping thousands of musicians from the community, he's traveling around the world playing for various artists! I trust no other person over him to deliver fresh, practical, easy-to-understand techniques and principles to playing urban, west coast gospel music by ear!
As a company, Hear and Play Music serves over 204,000 musicians from all around the world and supplies over 1.5 million pages of online piano lessons each and every year! Over 40,000 students rely on our paid courses to teach them cutting-edge techniques without having to pay hundreds -or- even thousands of dollars in classes and private lessons.
"Am I Talking To You?"
Who should continue to read this page?

Anyone who is committed to lifelong learning.


Anyone who's sick and tired of playing the same stuff over and over.


Anyone trying to keep up with where gospel music is going --- that is, the contemporary, neo-soul, urban side of gospel music.


Anyone wanting to learn two-hand chord voicings and how to make their left and right hands work seamlessly together.


Anyone struggling to add "fill-ins" to their playing to make it sound less empty.


Anyone hungry for more!
The "Secrets" Are Out!
Learn In 5.5 Hours What It Takes Musicians Decades to Pick Up!
How to play tons of P-H-A-T (that is, "FULL") urban chords off every tone of the scale using the award-winning, step-by-step, "GospelKeys" approach to learning!


Tons of voicings, left-hand techniques, right-hand triad tricks, "runs," and more... that you can outright claim as your own!


How to incorporate the "padding element" into your playing to help give the melody a much smoother sound! Very important.


Discover highly-used (but rarely talked about) "unofficial shortcuts" that allow you to add "good" dissonance and tension to your playing at the right time. Believe it or not, having a certain level of dissonance present is good when you know how and where to incorporate it.


Learn how to shift your thinking from the right to the left. Learn full chords on the left and what to do on the right hand to accompany them. This is certainly a closely-guarded secret that's going to be completely exposed.
Never Beg For Tips And Tricks Again!

"What You Don't Know, CAN Hurt You!"

Introducing THE Course That Contemporary Gospel Musicians Shouldn't Be Without.
For the first time ever, Jonathan Powell sits down with my camera crew and I and literally pours out everything he knows about playing contemporary, urban-styled gospel music by ear.
And no... this isn't just hours of showing off. We despise dvds like that. If you know us by now, you know that we're an "instructional music company."
We "teach," first and foremost before anything else.
With that said... you get the best of all worlds. The "how," the "when," and the "why."
Jon showed so much that we ended up with over 5.5 hours of footage (...and it was only suppose to be a 2-hour course)! Compared to the average prices of other courses out there, this 5.5 hour monster-course will be an absolute steal! In fact, we originally priced it at a 2-hour level course and honestly never increased the price (even though it ended up being almost triple the amount of footage we planned on offering).
So if you're like many who have benefited significantly from our past courses, then you'll definitely take a lot away from this course.
Also... you won't have to worry about seeing chords that you've already learned in past courses as you'll be exploring a whole new approach to looking at two-handed chord formations.
This is every gospel musician's #1 challenge... what to do on the left hand and how to seamlessly play both hands together. Jonathan is known as an expert in this area as you'll soon see.

Yes, I'm ready to reserve my course now
(or keep reading for additional information)
---
Check Out These Video Clips From GospelKeys Urban Pro 600 - "Contemporary Urban Chords & Progressions"
---
Here's What A Few Customers Have To Say About Our Past GospelKeys Courses...
"Hear and Play is a wonderful company"
"...and Jermaine Griggs is absolutely a genius, teaching people how to play by ear!"
I am so very ecstatic about Hear and Play™! Hear and Play™ is a wonderful company! Jermaine Griggs is absolutely a genius, teaching people all over the country how to play gospel music on the keyboard, by ear! I think it's phenomenal!

God bless you and be prosperous!

Vickie Winans
Grammy® Nominated Gospel Artist
http://www.VickieWinans.com

"I believe this site is a God-Given...

This is the new millennium of learning!"

H i everyone,

This is Algieres giving the big up's to Hear and Play for all it is doing, being an impact on the world of learning how to play!

This site is a full orchestration of powerful information, taking the world of learning by storm!

It is a pleasure coming to the site, if for nothing else but ideas on perfection! To God be the glory! I believe this site is a God-given resource, and a chain breaking, devil destroying work of adoration and glory to God! And this is coming from an organist who has a strong desire to be successful in playing the keyboard as well as the organ.

Believe me when I say, "this is the new millennium of learning" and I am truly blessed!

Algieres
Algiers.com
http://zone.hearandplay.com/pages/algieres

This course is a "MUST" in order to become a better musician for your church worship team!

Hi, I'm LadyD... I was surfing the web one day and found Jermaine Griggs website. I have enjoyed playing the piano since I was 8 years old! I read notes well and play keyboard on the worship team at my church. I have always longed to play without sheet music and to learn what it means to play by ear!

I became a member in March of 2006. I have met over 700 buddies who share music tips, music files and songs they're working on. I purchased the 300 page course book and enjoyed the theory immensely.

Learning how to harmonize melodies in Gospel Keys101 increased my understanding greatly. Gospel Keys 202 & 300, with worship and praise songs, is a must to becoming a better musician for your church worship team. Playing music by ear is a very enjoyable experience for me and a dream come true! Thanks H&P!


LadyD

http://zone.hearandplay.com/pages/LadyD

"I thought it was too late for me to start..."

"But after getting the GospelKeys Series, I'm now playing for my church !"

I've had a strong desire to play piano since I was 12 years old. My aunt was teaching me and she died suddenly, but I never lost the urge to play.

I am at the age of 38 and started 2 years ago to try and play again. Hear and Play was referred to me and I thought I'd try it out. I started with the 300 page course and was like "WOW!"

I thought it was too late for me to start, but now I have all the GospelKeys series with the exception of the 500 series, and you better bet I am getting it next!

"I may not know everything there is to know about the piano but what I do know is that now I'm playing for my church service on 1st and 3rd Sundays and other churches have asked me to help them out since I've been studying the courses. No lie... you may know a lot and still you will be amazed because there is so much more you can add to what you already know. Thanks Jermaine!

LaQuanda
"He had very limited results before he came to us...

...but after one night of watching our lessons, his playing was revolutionized!"

I thought I had a decent grasp on music theory after having played guitar for 13 years. I tried my best to apply this knowledge to the piano when I decided to learn to play. I had very limited results. But after one night (literally) of watching the online lessons on this site, my understanding of chord structure and my playing ability was revolutionized. Thanks Hearandplay!

Robby Hunter
http://zone.hearandplay.com/pages/robby

"It is hard to find someone willing to teach a visually-impaired person...

...but since he discovered us, his playing has been "tight!!!"

I have really been blessed by being a part of the HearandPlay community! I recommend it to everyone!

I've been playing piano for about 10 years now, and wanted to enhance my playing skills. It is hard to find someone willing to teach a visually impaired person, but since we discovered HearandPlay, it's been tight!

I own all the GospelKeys piano lesson dvds, including the 300pg piano workbook! I really enjoy my dvds and the newsletters are really good. The zone is off the hook!


Adrian Stewart
http://zone.hearandplay.com/pages/Adrian

"After studying GospelKeys 101, she decided to try to play Silent Night by ear ONLY...

...She was shocked that in 10 minutes, she had the song mastered!"

I have purchased the GospelKeys 101. This video has inspired me to want to learn more about playing the piano. The lessons are very easy to follow and I was able to learn full length songs in one day. I am a beginner and never really understood musical note reading.

But since I have been involved in this community my understanding has grown immensely. My ear listening abilities has also grown tremendously. One day I sat down and decided to try to play Silent Night by ear only. I was shocked!! In about 10 minutes time I had the song mastered.

So then I thought why not try, We Three Kings, and as well it came so easy for me. I'm excited about how my playing by ear has increased. I can play quite a few songs now by ear that I couldn't of played before the lessons and through the help of the community at Hear and Play.

The community is like a second family to me. They are all so supportive of each other and provide such good information on playing music and on other helpful sites available. Becoming a member is a true blessing

-Mary

http://zone.hearandplay.com/pages/indigoyellowrose
"Reserve Your Copy Of GospelKeys Urban Pro 600 Today!"
If you're truly serious about taking your gospel piano and keyboard playing to new heights (...learning more chord voicings, left and right-hand cooperation, finding newer progressions to play, adding the "west coast" feel to your playing), then you'll definitely be one of the first 150 musicians to take me up on this incredible offer.
Not only am I dropping the price of this dvd course a considerable amount, but if you order today, I will also throw in the "fast action taker" bonus items below.
Here's what you'll get:
1) GospelKeys Urban Pro 600 Disc 1: This is where you'll learn various chords and voicings for the first half of the scale. Jon really takes his time and gives you an in-depth look at dozens of chords to play when you're in various situations.
2) GospelKeys Urban Pro 600 Disc 2: Jon starts from where he left off in disc one, introducing dozens more chords to you in this disc, alone! He also emphasizes the use of grace notes, slides, pivoting notes, fill-ins, and other nuances that differentiate one musician from the next.
3) GospelKeys Urban Pro 600 Disc 3: You'll study everything from major, minor, dominant, diminished, augmented, sevenths, ninths, elevenths, and thirteenths --- the big difference, however, is that you get urban and contemporary ways to voice these chords. Two musicians can play the same chord and sound two totally different ways.
4) LIMITED OFFER: GospelKeys Urban Pro 600 Disc 4: In our last product development meeting, we discussed separating disc 4 into its own category but ultimately decided to include it with this package for the next 150 serious musicians to order. Jonathan brings in a bass player (Bryan White) and shows you real-life examples and situations of these chords in use! You get a front-row seat as you watch him put all of his chords and progressions to use. You're guaranteed to walk away with tons of "A-HA" moments from this disc, by itself!!!
For the next 150 musicians only.
(No exceptions after 150).
"Fast Action Taker" Bonus #1
200+ Page "GospelKeys Urban Pro 600 Chord" Online Workbook (PDF). $39 Value.
Because he pours out so many chords, what was suppose to be an 80-pg online guide (like our other courses) ended up being over 200 pages of solid information.
Our marketing department threatened to sell this online guide alone for $39 but I refused to let them because, as always, I want to be a blessing to the customers who support our company right away --- aka "The Early Adopters."
We value our serious students so along with your package, you'll receive a special link and dedicated code to the private area where you can download this guide.
This bonus alone is worth the entire value of the course and will soon be upsold as an add-on for an additional $39.00.
You'll never miss one single beat with this chord guide. Flip through pages as you watch the dvd, taking notes next to the enlarged piano displays (...which shows you exactly what's being played, note-for-note)!
"Fast Action Taker" Bonus #2
Two Interactive Training Recordings With Jonathan Powell ($59.95 Value).
Join the author of this course as he personally walks you through tips and strategies that'll guarantee your success with this program. The training is 4 additional hours and available online immediately after you complete your order.

Session topics:
1) "How to guarantee your success with GospelKeys Urban Pro 600!"
Recording of entire event is available in the online classroom for an unlimited amount of time.
2) "Left Hand Secrets Exposed!"
Recording of entire event is available in the online classroom for an unlimited amount of time.
[Four hours of training]
"Fast Action Taker" Bonus #3
GospelKeys Urban Pro 625 ($47 value)
*Note: This program sells on its own at www.gospelkeys625.com for $47.00 but we've decided to include it with this program for the next 150 fast action takers.
---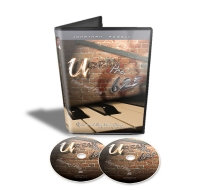 For the first time ever, Jonathan Powell sits down in the studio and records everything he knows about playing advanced contemporary, urban-styled gospel music by ear!
What's more, you can expect not only to hear super phat chords and nice-sounding progressions in this 2-hour audio course, but he really takes his time and breaks everything down... STEP-BY-STEP in an instructional format!
Learning "on the go" has become increasingly popular as people now see dead time as opportunities for learning. Whether driving in the car, riding the train to work, or exercising with ipod in hand, listening to this additional audio program will reinforce what you're learning in the dvd content.
Self-help gurus say you're the average of the 5 people you hang around the most. I believe that's true for music too! If you want to attain a new, fresh & contemporary sound, you have to immerse yourself in it. When you can't be at your tv or computer, having an audio program on auto-repeat is the next best thing, if not BETTER for some folks.
Here's just a preview of what you'll learn in this accompaniment program.
Learns the secret about major scales that most top musicians use in their urban gospel playing but never want to talk about.


Understand the underlying similarities and differences between the 3 most popular types of seventh chords used in urban playing and how to place them in a way you'd never imagine!


"Individualize" your style and set yourself apart from the pack by utilizing tons of extended chords and two-hand voicings that are only known by a few (he's risking his reputation by giving away these secrets).


Develop left hand tricks that are sure to give you a much more full and richer sound... no matter what chord you're on!


Discover highly-used (but rarely talked about) "unofficial shortcuts" that allow you to add "good" dissonance and tension to your playing at the right time. Believe it or not, having a certain level of dissonance present is good when you know how and where to incorporate it.


Create TONS of full-sounding chords by using a minimal amount of notes. Many people think that every finger on your right hand must be occupied to produce "full-sounding" chords but this isn't always the case! The key is the left hand.


And much more...
This 2-hour comprehensive course normally sells on its own for $47.00 but as a special bonus, we're including it with your purchase today for free.
Special Bonus Opportunity:
You'll Also Get 3 FREE "Monthly Music Mentor"
Courses Just For Trying This Program...
As a very special one-time bonus, I'd also like to send you three free courses from my Monthly Music Mentor CD of the month program.
The Monthly Music Mentor program is aimed at teaching you everything you need to know to play piano in the quickest and easiest way possible. Just as it sounds, this program was designed to take you by the hand and "mentor" you step-by-step through the musical process of playing by ear. If you lack time and want to make the best of the limited time you have, you're going to love what these monthly cd lessons will do for you.
Here's how it works: Order now, and I'll throw in a one-month FREE subscription to my Monthly Music Mentor program - PLUS you'll get three free Monthly Music MentorTM introductory courses, which provide an incredible introduction to the ongoing training... and you'll get all this just for trying this program.
The three courses you'll receive are "Piano By Ear For Starters" 2-hour course, "How To Find The Key To Any Song" 80-minute course, and the first Monthly Music Mentor introductory CD (80-minute "Getting Started" program). All of this is worth $79.95 but yours free as a bonus today.
I'm so sure you're going to love Monthly Music Mentor courses that I'm even going to pay the additional priority SHIPPING cost to send the starter kit to you.
If you love the three starter courses (which you will), keep them and stay subscribed to the program. Every month, I'll send you a new lesson on CD, and you'll automatically be charged only $15.95 a month... which is roughly just a quarter of what one private lesson would cost you... and you can't rewind live lessons). You can cancel anytime you want with no questions or hassles. If you cancel before 30 days, you won't be billed at all.
The Three Courses Are Your Gifts
To Keep Either Way...
If you get these 3 courses and you DON'T love them and get IMMEDIATE success with the material you learn, you can cancel and keep all the courses FOR FREE... just for TRYING it. In other words, you get to keep all the material for free either way... even if you cancel right after you get it.
This bonus is worth at least $79.95 alone, and it's yours free just for trying this program --- but this special free offer is only available with your purchase right now.
***If you prefer NOT to get this free $79.95 bonus package, you can "opt out" with one click while ordering... and simply complete your order without the free bonus and 30-day trial. Your choice. It's that easy.
---
"How Much?"
Even though, for all this, I could very well charge over $250.00 and still get tons of orders for the 5.5 hours of step-by-step training --- plus the bonus 200+ pg chord book, bonus online training sessions, free Urban Pro 625 audio course, and 3 free monthly music mentor courses. With the bonuses valued at $225.90 alone and the DVD instruction valued at $165 (based on on the industry average of $30 per 1-hour dvd), I could offer this package as high as $390.90. In fact, many piano websites sell packages in that price range that aren't as comprehensive and not packed with as much information as ours.
But I'm not going to charge you $390.90 even though that's what this comprehensive package and bonuses are worth. I'm not going to charge you $200 --- I'm not even going to charge you the retail price of $165.00 for this incredible package because I want as many people as possible to take advantage of this awesome information at an affordable price.
For just 3 easy monthly payments of $33, this entire 5.5 hour GospelKeys Urban Pro 600 package plus the bonus online chord workbook, free courses, and training sessions can be yours.

This offer is subject to change at any time (so if you're really interested in these dvd courses, I suggest you act quickly --- otherwise, you might end up paying well over $200.00 in the future). Even worse, you may be too late and not able to take advantage of the this offer at all (we're only accepting the next 150 customers for the bonuses listed above).

The next price change will increase this package to 3 payments of $41.

After that, the price will be permanent at 3 payments of $49.

Click here if you're ready to order this 5.5-hour package for just 3 monthly payments of $33 through our online secure server
Even though the price is extremely affordable (no more than what you'd spend for two tickets to Disneyland these days), here's what's really important. If this contemporary urban pro series was just another course that just sat in your bookshelf and didn't teach you anything new, it wouldn't matter what the price was. IT WOULDN'T BE WORTH ONE PENNY.
But if you can take this information and revolutionize your playing, give your best, sound better, and get the respect you deserve, what is that worth to you?
To be quite honest, another few payments of $33 won't make or break me, but could mean a whole lot to your playing: a fresh, new, contemporary sound... full-sounding chords, professional moves, and a push through the glass ceiling that's been hindering you from moving to the next level. I believe with all my heart that's what my program can do for you.
I don't release many courses frequently. But when I do, I want to make sure that you're getting back in information and helpful resources & tools at least two to three times what you invest. That is always my goal and I sincerely believe this is one of the best values you'll ever come across.
Jermaine Griggs, President

If you fit any of these situations below, then you need these training courses:
Are you committed to a lifelong music journey of learning?

Are you sick and tired of playing the same stuff over and over?

Are you trying to keep up with where gospel music is going but just can't follow along on your own like you want to?

Need to improve your two-hand chord voicings to make your left and right hands work seamlessly together?

Are you struggling to add "fill-ins" to your playing to make it sound less empty?

Do you want to sound more contemporary?
If you answered "Yes" to any of the questions above and are serious about learning to play the piano by ear, here are five easy ways to order:
Your "Nothing to Lose And
Everything To Gain" Guarantee
Your package is shipped via USPS Priority Mail. You will receive the GospelKeys Urban Pro 600 Series in a week or so (depending on the shipping options available) and you can get started learning new chords, voicings, and progressions the same day you receive it. You can literally be on your way to playing for your church service (or improving your current skills) in a couple of weeks!

I look forward to receiving your success story very soon.
Sincerely,

Jermaine Griggs, President
P.S. Don't forget --- I am including a few bonuses (totaling over $178.90) and special pricing for those who take me up on this today. I honestly don't know how long this will last.
You Have Two Options:
-Or-
Click here for answers to frequently asked questions concerning digital downloads
---
Hear & Play Music, Online!
22521 Avenida Empresa Suite 113 * Rancho Santa Margarita, CA 92688
© 2000-2016. All Rights Reserved